Scuba Club Cozumel

March 10 – 17, 2018


 
 Diver Pkg:  $1088; Non-diver Pkg: $950  (Dble Occupancy)
Join Do Dive In staff members Steve and Jackie Herrick on a trip to one of the Caribbean's top diving destinations-"Cozumel Mexico."  Cozumel offers some of the best diving in the Caribbean and is famous for its drift diving, incredibly clear water, amazing marine life and great night life too!
Your dive package includes:
7 nights accommodations (dble occupancy)
All meals
5 days of morning 2 tank boat diving
Unlimited shore diving
Tanks, weights and weight belt
Private Gear Locker
Hotel taxes
Not included:
Beverages
Air fare
Departure taxes
Airport transfers
Marine Park Fee ($2.25 US per day)
Staff gratuities
Deposit:  $500
Little Cayman Beach Resort
March 25-April 1, 2017

Diver Pkg:  $2544,  Non Diver Pkg:  $1726 (Dble Occupancy)
Located 85 miles east of Grand Cayman and only 5 miles from its sister island, Cayman Brac, Little Cayman offfers 21 miles of spectacular shoreline, uncrowded beaches and clear turquoise waters.  The island is partially ringed by a shallow coral reef shelf that turns into a vertical coral wall.  The faces of these walls are decorated with a colorful array of sponges, hard corals, black coral and a myriad of marine ife.  Friendly grouper, turtles, rays and schools of reef fish sweep past as divers explore every nok and cranny.
At Little Cayman Beach Resort you can relax in the freshwater pool or hot tub, visit the full service Nature Spa or just laze around on one of the many resort hammocks.  Or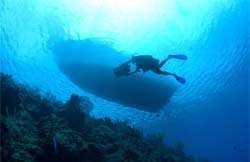 if you prefer, you can explore the island on a bicycle, kayak or hobbie cat.
Your Package Includes:
Airport Ground transfers in Little Cayman
Free welcome rum punch
7 nights accommodations in pool side rooms (Dble occupancy)
All meals daily plus 2 drinks nightly
17 boat dives (5 days of 3 tank boat dives + 1 day 2-tank boat dives)
Use of tanks and weights
Free use of dive computer
Hotel tax and service fees
Not Included:
Air fare
Gratuities for hotel, dive staff and baggage handling
Equipment rental other than tanks & weights
Deposit:
A $500 deposit is required to hold your spot.  Space is limited.  Prices are based on double occupancy.
Full payment is due by December 15, 2016.
Entry Requirements:
A valid passport that will not expire within 6 months of return date.
Buddy Dive Resort, Bonaire
June 17-25, 2017
Diver Package:  $1130, Non Diver Package:  $810  (Dble occupancy)
Join Do Dive In and Les Fulton for a week at Les' all time favorite tropical dive destination, Buddy Dive Resort on the island of Bonaire.  Bonaire is a divers' paradise featuring easy diving and abundant fish life.  Buddy Dive Resort is known for its casual atmosphere, personable staff and spacious accommodations.  Each two bedroom condo (4 people per condo) has a fully equipped kitchen, living area with cable TV, a patio or balcony, and air conditioned bedrooms.  At Buddy's you're never further than giant stride away from Buddy's popular house reef.  Whether you're a beginner or an advanced diver, Bonaire is hard to beat, and is consistently voted among the top ten diving destinations in the world with arguably the best shore diving anywhere.
Your Package Includes:
8 nights accommodations in two bedroom condos (4 persons per condo);
9 boat dives and unlimited shore diving plus tanks & weights through Saturday, June 24
FREE NITROX for NITROX certified divers
RT airport transfers while on Bonaire
Daily American Breakfast Buffet and a 50% food credit (up to $75)
Welcome drink and Managers Rum Punch Party
Car rental (dble cab pickup truck-insurance not included)
Hotel & government taxes (subject to change)
Pool session prior to departure for those needing to brush up on their skills
Not Included:
Airfare
$25 Marine Park Fee & $32 Departure Tax
Lunch, dinner, and beverages
Gratuities
Personal dive equipment
A $500 non-refundable deposit is required to reserve your space.
Final payment is due by April 1.
Entry Requirements:
A valid passport that will not expire within 6 months of return date.
Sunscape Curacao Resort
October 7-14, 2017
Diver Package:  $1406 Garden View Room ; Non Diver Package:  $935 (Dble occupancy)

Join Do Dive In for another great diving adventure to the beautiful island of Curacao.  We will be staying at the Sunscape Curacao Resort, Spa and Casino and diving with Ocean Encounters.  This is an all inclusive trip (except for air fare) and is a great destination for divers and non divers alike.  The diving in Curacao is fun and easy with great visibility and terrific sea life including frogfish, sea horses, and tons of eels.  There is plenty to do for non divers as well.  Curacao is a great choice for a fall vacation due to it's location on the very southern edge of the  hurricane belt- hurricanes rarely threaten the island.
Your Package Includes:
7 nights accommodations in Deluxe Garden View Rooms
All meals and drinks (including alcohol)
6 days of two tank boat dives
Dive package includes 6 days unlimited air for shore diving, tanks, weights, weight belt and dive locker
Free use of gym, sauna, steam room  and chaise lounges
Scheduled downtown shuttle
Hotel Tax
Airport transfers on island
Not Included:
Deposit:  $500
Trip Balance Due:  July 31, 2017
You are required to have a valid passport that has at least 6 months remaining on it.