Kids Scuba Classes
PADI Seal Team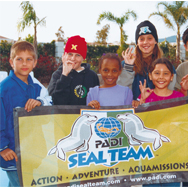 Hey parents!  This is the ideal program for young kids who want to become underwater explorers.  It introduces kids to scuba in a safe, controlled pool environment (no open water dives)  Designed for kids age 8 – 12, this exciting pool program is built around action packed "AquaMissions".  What is an AquaMission?  It is an underwater pool adventure such as Snapshot Specialist where Seal Team members take pictures of each other while diving underwater!
The PADI Seal Team program has two parts.  AquaMission 1-5 teach the basics of diving in two to five sessions, depending on the schedule.  After building a solid foundation of scuba skills, kids can move on to part two, the Master Seal Team where they can participate in Specialty AquaMissions.  After completing part one, kids will receive an official PADI Seal Team Member certification card!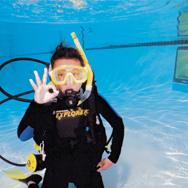 Cost:  $150
Deposit:  $75
Minimum age:  8
Prerequisites:  Must be able to swim.
Class Size:  4 students per instructor
Provided by Student:  Swim suit, towel, & a spirit of adventure!
Provided by Do Dive In:  Fee includes tuition, pool fees,  Seal Team Crew Pack, use of all scuba gear, including mask, fins & snorkel.  Seal Certification card also included.
PADI Seal Team Schedule
 The first five AquaMissions required to become a PADI Seal are completed over three sessions.  Preregistration is required.   Contact Jan at Do Dive In with questions or to register: (309) 692-7600.
Winter Class:  Feb 9, March 9, April 13 2014
Spring/Summer Class:  May 4, June 8, July 13, 2014

Summer Class:  To be scheduled
Fall Class: To be scheduled
PADI Master Seal Team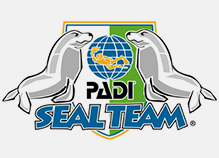 Once you've completed  AquaMissions 1- 5 and earned your Seal Team Certification Card,  you're ready to work toward your Master Seal certification!  To become a Master Seal, you need to complete 10 specialty "AquaMissions"  which include:  Creature ID Specialist, Environmental Specialist, Inner Space Specialist, Navigation Specialist, Safety Specialist, Search and Recovery Specialist, Skin diver Specialist, Snapshot Specialist, & Wreck Specialist.
Cost:  $35 per AquaMission or $300 for all ten AquaMissions.
Prerequisites:  PADI Seal Team certification, basic swimming ability
Class Size:  4  students per instructor
Provided by Student:  Seal Crew Pack (received with Seal Team Program)
Provided by Do Dive In:  Fee includes tuition, pool fees, use of all equipment.